If you are traveling these school holidays, you might want to take a look at this first.
Auckland Civil Defence is warning of possible slips, flooding and even small tornadoes with thunderstorms and heavy rain forecast to batter the country.
Rough weather is heading toward the country today and into tomorrow and the central and upper North Island will be the worst hit, MetService is predicting.
An active front with thunderstorms rolling across the North Island will bring localised heavy rain, hail and strong wind gusts of 100km/h to areas like New Plymouth and Hamilton.
The same front will move across Auckland soon after, with morning commuters warned driving conditions could be very bad.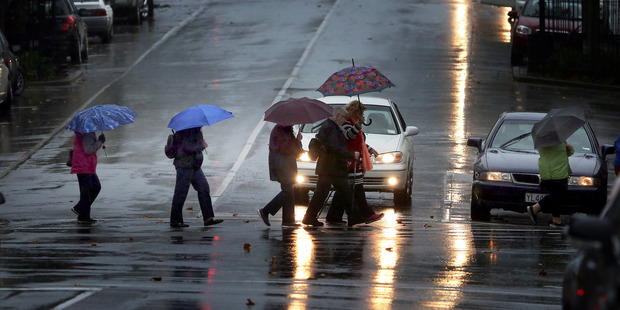 Unstable conditions continue over the North Island and upper South Island through to tomorrow morning, with a further high risk of thunderstorms from tonight bringing rain, hail and even stronger wind gusts reaching 110km/h or possibly more in places.
"The wind gusts in particular may prove troublesome and potentially damaging," said meteorologist Tom Adams.
There was a moderate chance of thunder in the South Island for the West Coast and inland Canterbury and North Otago.
Snow could also lower to 1000m over the central North Island overnight tonight, possibly affecting the Desert Rd. Conditions were forecast to ease by the end of tomorrow.
"Saturated ground conditions also increase the chances of trees blowing over and the possibility of damage to power lines," Adams said, a warning echoed by Auckland's Civil Defence.
Auckland Council spokesman Aaron Davis said strong wind gusts could cause structural damage.
"In anticipation of further wet weather, it pays to ensure drains are clear and property that might be affected by storm damage is secure.
"If out and about tomorrow, please drive to the conditions and take care on the roads, especially in slip-prone areas," he said.
"Added to all of this there is a low risk of small tornadoes. If you see a tornado or funnel forming, take shelter immediately and help alert others."
Western regions on both islands would experience heavy rain today, especially in the morning and late afternoon, said WeatherWatch head analyst Philip Duncan.
Gusty westerly winds were forecast for much of the North Island during the day before ramping up in the evening with gales possible especially in the west, Duncan said.
"Classic spring weather."