A lucky punter has woken up $44 million richer this morning after a single ticket won the biggest prize in New Zealand lottery history.
The golden ticket was sold at Dairy Flat Food Mart and Liquor, north of Auckland.
Eyes are on the North Shore shop to see if it will be claimed in store or whether the country's overnight multi-millionaires were headed to Lotto's Wellington headquarters to bag the mindblowing winnings.
Fourteen first division winners bagged $66,667.00. Three were from Auckland City, and one each from Mt Wellington, Pt England, Canterbury, Albany, Wairoa, Napier, Orakei, Mangere, St Heliers, Masterton, Christchurch and Te Awamutu.
The winning numbers for last night's record-breaking $44 million Lotto Powerball draw were 3, 21, 22, 1, 30, 29 and the bonus number was 5.
The winning powerball number is 6.
The winning stores
Eastridge Lotto – Auckland
Mangere Stationery and Post – Auckland
Maskell Lotto and Convenience – Auckland
MyLotto (x3) – Auckland
Paper Plus Sylvia Park – Auckland
Riverside Dairy – Auckland
Paper Plus Te Awamutu – Te Awamutu
Z Wairoa – Wairoa
Napier Food Mart – Napier
Paper Plus Masterton – Masterton
Countdown New Brighton – Christchurch
MyLotto – Canterbury
This morning up tempo music played in the background of the Wairoa petrol station as workers celebrated selling a first division prize in the enormous jackpot.
"It's very exciting in here today. The buzz and hype is alive," said Z Wairoa spokesman Matt Te Kahu.
"I've only just walked into work and customers are already asking questions about it."
He said when he found out last night the new Wairoa outlet had sold the ticket he couldn't stop thinking about it.
"I definitely lost sleep because of it."
While there was the possibility a passing motorist could have purchased the ticket he hoped it was a local.
"We're only a small town so someone is going to be really excited or really humble about it."
He was now quickly trying to find balloons and signs to celebrate striking division one just two months after becoming a lotto outlet.
Riverside Dairy employee Mahesh Maisuria said he had not been told one of the store's customers had won a share of division one and no customers had been in to check their tickets yet.
He said the news was "very good" and staff would be celebrating at the store today.
It was the first big win from the dairy, but second division winning tickets had been bought there before, Maisuria said.
He hoped the person who won would come claim their prize instore today.
The shop that sold the winning $44 million Powerball ticket was closed last night but there was still excitement in the air in Dairy Flat.
Punters had pulled into the Caltex next door, and one man bemoaned his lost chance at snaring the golden ticket.
He told the Herald he was supposed to buy his ticket from Dairy Flat Foodmart as he usually does, after filling up yesterday afternoon.
He drove off without buying one, and was "gutted" at missing out on a chance at winning the largest draw in Lotto history.
Record numbers for Lotto's biggest prize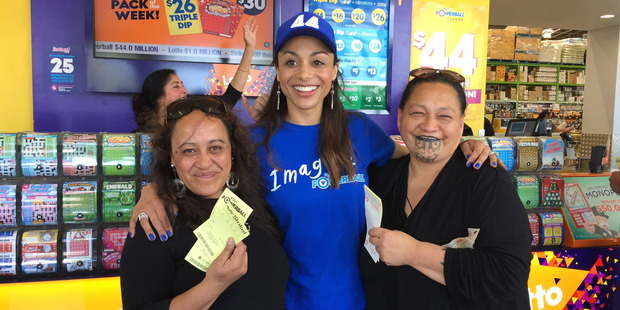 Top five lottery prizes won in New Zealand:
1. $36.8 million, June 2009, Kuripuni Lotto and Post Shop Masterton, Big Wednesday
2. $33 million, September 2013, One Step Ahead, Ponsonby, Auckland, Powerball
3. $28.7 million, October 2010, Mobil Papakura, Auckland, Powerball
4. $27 million, October 2010, AJ's Lotto, Tauranga, Big Wednesday
5. $26.5 million, March 2012, Te Kauwhata Four Square, Powerball
Lotto yesterday expected more than two million tickets to sell for the must-be-won Powerball draw.
And judging by some of the queues seen around New Zealand, that could well have been right.
The jackpot is the biggest in Lotto history, more than July's $40 million Powerball draw attracted record sales, when more than 2.7m tickets entered into the draw.
Last Saturday's $38 million Powerball draw saw the sale of 1.85 million Lotto tickets.
At Rotorua's Lucky Lottery Shop, the lunchtime line went out the door, and in Tauranga's Bayfair Lotto store, people queued since 8.50am.
Lotto NZ's spokesperson, Kirsten Robinson said the expected ticket sales for the country's biggest Powerball draw ever are three times more than those for a lower jackpot level.
At Pak n' Save Manukau yesterday, Lotto presenter Sonia Gray manned the tills, saying selling tickets was harder than her day job.