Serious concerns for building in central Wellington with beam 'like a broken bone'
A large office block in Wellington is at significant risk of collapse with a major supporting beam "like a broken bone".
A section of Molesworth St that includes Wellington Cathedral of St Paul, the National Library and NZ Rugby headquarters and the Thai embassy has been cordoned off, with people cleared from the area.
The office block at 61 Molesworth St has been vacant because of renovation work. An engineer involved approached the fire service today, concerned about a structural beam.
Fire Region Manager Brendan Nally said it was unlikely office workers and residents in buildings within the cordoned-off areas would be let in tomorrow.
"We have a clear structural failure. What's caused that will be determined later.
"The clear structural failure is a major beam – a vertical beam in the building – has been shorn.
"It looks somewhat like a broken bone in the leg. It is fractured through. It is a major supporting beam. It is up above the fifth floor, so it is the top four floors."
Police and fire blocking off Molesworth St. Concern about one of the buildings behind the church #eqnzpic.twitter.com/lFX6UwUEqa

— Isaac Davison (@isaac_davison) November 15, 2016
@isaac_davison this is the building being inspected. Might be on a slight lean #eqnzpic.twitter.com/poNniqmOm9

— Isaac Davison (@isaac_davison) November 15, 2016
PM's protection detail are on traffic control. Fire Service says support in building on Molesworth St has sheared. Risk of collapse pic.twitter.com/BL0aRAGSkr

— Felix Marwick (@felixmarwick) November 15, 2016
That assessment was being done using cellphone photos, the fire service said. The cordon was big enough so that if the building did collapse it would be contained within it.
The building looks to be about 10 stories tall.
Members of the Diplomatic Protection Squad (DPS) – normally accompanying the Prime Minister at neighbouring Parliament – were on the scene helping direct traffic at the Hill St intersection.
Corinne Ambler works in the New Zealand Red Cross situated next-door to the Molesworth Tower and said staff were told to evacuate immediately.
"It's a bit more drama just to add to the earthquake, the flooding and the wind," she said.
"The receptionist came running through every floor of the building saying 'I've just been told that we have to evacuate, there's a very tall build next door to ue… and that it could be in danger of collapsing on top of the NZ Red Cross building'.
"So we all as as fast as we could grabbed our stuff and we were out of the building in a couple of minutes, and we're all standing out on the street here."
Ambler said the building had "definitely slumped".
"It's a big building with two parts to it, there's a concrete column… in between the concrete column and the rest of the building is like a glass conservatory and that you can definitely see has sunk, there are bits of glass and panes of glass missing.
"It's lumped in the middle, if that concerete slab breaks away… then that could fall on top of our building."
She said the building looked as though it was unoccupied, but food outlets and cafes at the bottom floor were rapidly moving their stock.
"There are a whole lot of small businesses, and cafes underneath it and just after we evacuated all the small business owners were parking their cars up out front and running their supplies into the boots of their cars, sacks of rice, food everything."
The building is listed as an eight-story office tower with five small retail units and a reception at ground level, with space for parking on a first-floor podium.
According to the website of Archaus Architects, who were engaged to redevelop the commercial property, the renovation work would increase the rentable office area to about 1340m2 per typical office level, and increase the building height to 43.8m, providing an additional 2 levels.
Monday's earthquake lifted seabed around Kaikoura 'by at least a metre', scientists confirm
Monday morning's quake has lifted the seabed around Kaikoura by at least a metre, scientists have confirmed.
While a scientific rarity, it's a phenomenon that those in the tourism industry are saying will spell doom for them and their jobs.
Local boat skipper Dean Kennedy said he'd never seen anything like it in his 50-odd years.
He was down at South Bay wharf today about 90 minutes before low tide making sure he was seeing correctly.
He said the explanation was simple – and it wasn't good.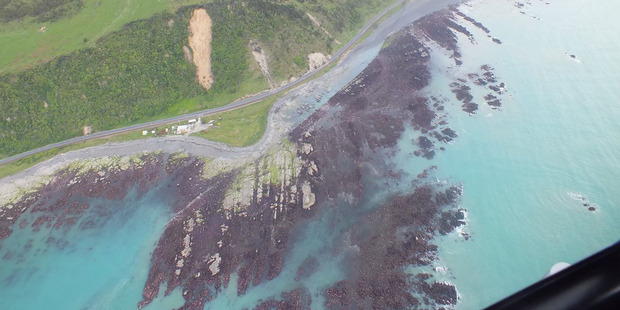 "Our summer is buggered. We're all out of a job pretty much."
Kaikoura was dependent on tourists and fish, including crayfish, and there wouldn't be any of them around for a few months, he said.
"Normally it's busy, flat out. There are four whale watching boats, three charter fishing boats and three dolphin-watching boats … and long weekends and Christmas we get recreational fishing boats from Christchurch."
But now, instead of diving for paua, the seafood beds had been left exposed by the rise in the sea floor.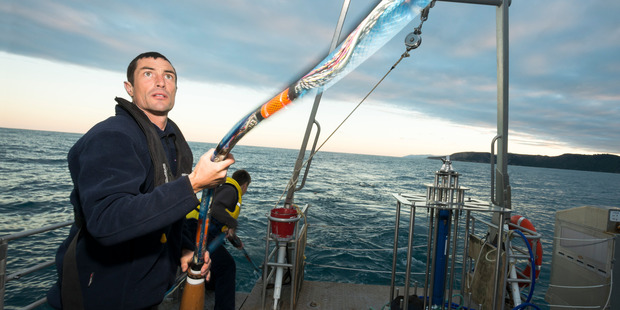 All the kaimoana that's in that zone is going to die, probably and even the stuff that moves down that's not the environment it likes to live in.
Further Updates and Events:
• Aftershocks have rumbled through the night and into this morning. There have been more than 860 since the 7.5 Kaikoura earthquake, GeoNet says.
• Heavy rain warning for Wellington with 50-60mm forecast for this morning and gale-force winds in exposed parts of the capital. Three key roads have been closed in the region by flooding, disrupting commuters
• Civil Defence groups have sent people into Kaikoura to help with the response and Government agencies were supporting Civil Defence groups.
• The Chinese Government chartered a helicopter to get Chinese nationals out of Kaikoura.
• It will be a couple of days' work to get the inland road to Kaikoura oepn to one lane. The coastal road is "a more challenging prospect".
• In Wellington, people are being told to use commonsense when in the central city today.
• Some buildings are still being assessed and areas, particularly around Featherston St, are still cordoned off.
• Parliament will sit as usual at 2pm and PM John Key is likely to open the day's business with a statement on the impact of the earthquake and the government's plans to repair the widespread damage it caused.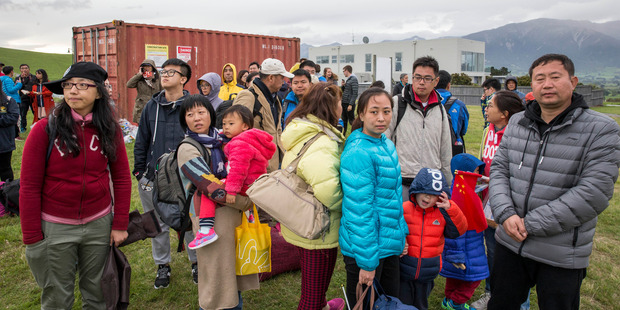 • Rail passenger services are expected to return to normal in the Wellington region today following yesterday's large quakes – see more details in the live blog below.
• 600 people stayed at a marae in Kaikoura. HMNZS Canterbury is on its way from Auckland to also help evacuate 1100 stranded tourists. It is expected to start this job first light tomorrow.
• Kaikoura is severely damaged with problems around communications, roads, water and sewage. Last night the Marlborough District Council said there was three days' water left.
• Power is intermittent, fuel supplies are limited and Kaikoura's hospital is at capacity.
• There have been many landslides, and a number of dams have now formed.
• St John kept its National Crisis Coordination Centre operating overnight in Auckland. It says patients are being moved out of Kaikoura as needed.
• Yesterday morning's devastating 7.5 quake claimed the lives of at least two people. Thousands of others miraculously escaped injury.