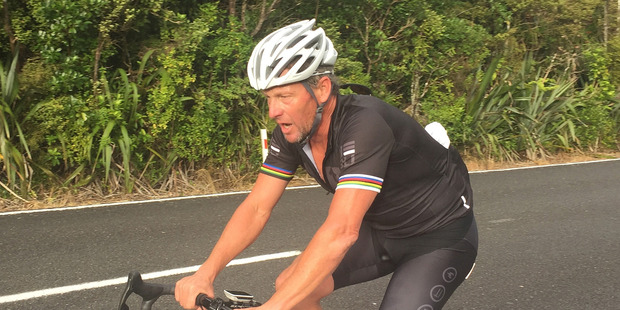 Disgraced Tour de France cyclist Lance Armstrong is in New Zealand to film a "cautionary tale" for brewery giant Lion.
Lion, which bottles beers such as Steinlager, has brought Lance Armstrong to the country for a film shoot.
""We are using Lance to tell a cautionary tale called 'The Consequence' which depicts how much you stand to lose when you pursue success at all costs. We want to highlight that actions have consequences and we couldn't think of anyone better to demonstrate that, " a spokeswoman said this evening.
The 45-year-old American was stripped of seven Tour de France cycling titles after confessing to benefiting from a sophisticated covert doping programme.
As well as tarnishing his reputation, the scandal cost Armstrong tens of millions of dollars in legal wrangling and loss of sponsor support.
Otago University marketing associate professor Robert Aitken said earlier today that if the brewing giant had chosen Armstrong for one of its campaigns, it was an interesting choice.
"It might be a new career for him as an inspirational or motivational speaker but it is a very strange move," Aitken said.
"But they're very calculated, alcohol companies, and they must see some value – there has to be a genuine belief that he can bring something to the brand that isn't already there."
Aitken said it was likely to be a left-field campaign or targeting athletes or lower-alcohol drinkers, saying Armstrong was already creating a media stir in the country.
Armstrong's timeline
• 2013 – Admitted doping in an interview with Oprah Winfrey in January.
• 2012 – Following USADA investigation, Armstrong received a lifetime ban and stripped of Tour de France titles for using performance-enhancing drugs over the course of his career.
• 2011 – Announced retirement from cycling 'for good'
• 2010 – Rode final Tour de France for Team RadioShack, finishing 23rd.
• 2009 – Returned to Tour de France, finished third behind Astana teammate Alberto Contador.
• 2005 – Announced retirement from cycling
• 1999-2005 – Completed seven straight Tour de France victories
• 1998 – Won Tour de France for first time
• 1996 – Diagnosed with a potentially fatal metastatic testicular cancer, founded the Lance Armstrong Foundation.