Central New Zealand has been shaken by a strong 4.5 magnitude quake this evening.
GeoNet said the 17km-deep quake struck 10km southeast of Seddon, in Marlborough, at 6.41pm.
More than 600 people have reported feeling it on the GeoNet website.
On Twitter, Wellington web developer Bradley Campbell described it as a "little wibble wobble", while James Fluker said it was "slight and rolly".
Among the causalities was a Christmas decoration.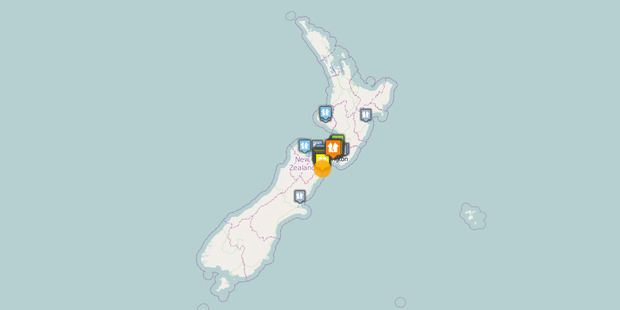 A single xmas decoration fell off the tree around the corner and into the dining room. Weird. Ghost of xmas past? Nope just an #eqnz

— Lynda (@Domestic_Ardent) December 22, 2016

The upper South Island has been shaken by thousands of aftershocks since last month's deadly 7.9 magnitude quake, which caused extensive damage around Kaikoura and Wellington.
---
The scientists responsible for keeping track of all the earthquakes and volcanoes in New Zealand have answered burning questions about a range of natural disasters.
A volcanologist, seismologist and "social science operations specialist" held a Reddit AMA (ask me anything) on Thursday night.
From their thoughts on Netflix films to the terrifying sounding seismic "unzipping", the scientists were asked almost everything.
Here's the best of what they said:
Moderate to large eruptions have occurred on average every 500 years.
The last major eruption of Taranaki occurred around 1854. It's estimated that the volcano has erupted over 160 times in the last 36,000 years.
There are no indications that Mt Taranaki is about to erupt, however, its unbroken geological history of activity tells us that it will in the future. We are in an unusually long (although not unprecedented) lull in activity.
Research from 2014 estimates an 81 per cent probability of at least one eruption by 2065.
– GNS's most experienced volcanologist, Brad Scott
ON THE ALPINE FAULT 'UNZIPPING'
The Alpine Fault produces magnitude 8 earthquakes approximately every 330 years.
It last ruptured almost 300 yrs ago in 1717. So, approximately 90 per cent of its "typical" interseismic period has elapsed since the last major earthquake.
There is a reasonable expectation that it will rupture in the next 50 years. The terms "unzipping" and "megaquake" are not really terms we would use at all ( except when we're watching C-grade Californian disaster movies).
– GNS seismologist Stephen Bannister
The next Auckland eruption is problematic, as we do not know where it will be, almost every eruption has been at a new site.
The eruption will totally destroy everything within about 2-3 km and have significant impacts out to around 5km. The style will depend on the wet/dry factor (where the eruption is). Warning will be relatively short (ie days, not weeks or months).
– GNS volcanologist Brad Scott
​I did the #emergencycute in (I think it was day 2?) of the response…
I was sitting in the office late at night and I just felt a bit powerless with all the earthquakes going on. I just wanted to cheer up other people. So, you are most welcome and thanks for that.
We'll keep up #emergencycute in future as well.
– GNS social science operations specialist Sara McBride
Another shaky start to the week, those earthquakes sure like Mondays, looks like our #emergencycute has a wee case of Mondayitis too! pic.twitter.com/I34d94zrws

— GeoNet (@geonet) December 12, 2016