Carrie Fisher, the actor, writer and daughter of Hollywood royalty who became internationally famous as Princess Leia of Star Wars, has died, Variety has confirmed. She was 60.
Fisher died on Tuesday morning (US time) after suffering what was described as a massive heart attack on Friday while on a flight from London to Los Angeles.
She had been in London filming episodes of the Amazon/Channel 4 comedy Catastrophe. Fisher was rushed from Los Angeles International Airport to UCLA Medical Center after the plane landed.
Numb. Unbelievable that such a bright funny loving spark could be extinguished. @carrieffisher you will be missed. I wish you peace.

— graham norton (@grahnort) December 27, 2016
Fisher was the daughter of actor Debbie Reynolds and singer Eddie Fisher, whose marriage famously broke up when Eddie Fisher had an affair with Elizabeth Taylor.
She often remarked that she was born in the spotlight, and her life and career reflected the highs and lows of the entertainment business. Her mother's career struggles after her 1950s heyday weighed heavily on Fisher.
"I grew up on the back side of show business. So I had no desire to go into it. It had beat up my mother," Fisher told the New York Times in 2006. "I had a front-and-centre view of how that hurt her. I understood that when they were done with you, they were done."
Fisher demonstrated her skill as a writer with the best-selling 1987 novel Postcards From the Edge, about an actor struggling to rebuild her career after an overdose.
Fisher wrote the screenplay for the 1990 film adaptation, directed by Mike Nichols and starring Meryl Streep and Shirley MacLaine.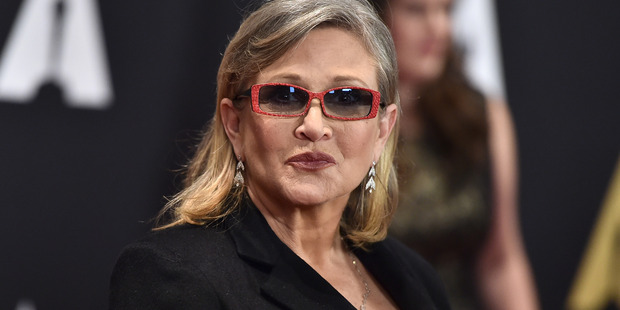 Fisher also penned the autobiographical 2008 book Wishful Drinking, based on her one-woman stage show of the same name.
She had recently been promoting her newly published memoir of her Star Wars years, The Princess Diarist.
In her writing and in public, Fisher was revealing about her battles with drugs and mental health issues. Her outspokenness about addiction earned her a lifetime achievement award from Harvard College in 2016 for cultural humanitarianism.
After her parents divorced when she was two, Fisher was estranged from her father for decades until she became his caretaker prior to his death in 2010.
Fisher got her start in the family business at age 15, when she appeared alongside Reynolds in the 1973 Broadway revival of Irene.
But it was 1977's Star Wars, later re-titled Star Wars Episode IV: A New Hope that brought Fisher international recognition.
You will always be my first crush and the force will always be with you @carrieffisher #rip #CarrieFisher

— Dominic Monaghan. (@DomsWildThings) December 27, 2016
Cloaked in white with her hair parted and tucked into two spiral side twists, the now-legendary character Princess Leia first appeared in the film as the fearless leader of the planet Alderaan, agent of the Rebel Alliance and member of the Imperial Senate.
The film earned six Oscars and launched a franchise of epic proportions. Two sequels followed A New Hope – The Empire Strikes Back in 1980 and Return of the Jedi in 1983 – to form what is now known as the original trilogy.
Fisher's personal life was also tumultuous.
She began dating musician Paul Simon in 1977 and married him in 1983, but the union lasted less than a year.
Fisher had one child, daughter Billie Catherine Lourd in 1992, with CAA managing partner Bryan Lourd. Fisher's relationship with Lourd ended in 1994 and, although they were never married, Fisher frequently referred to Lourd in interviews as her second husband. She was candid in her writing and elsewhere about the emotional experience of having Lourd leave her for a man.
Saddest tweets to tweet. Mommy is gone. I love you @carrieffisher

— Carrie Fisher's Dog (@Gary_TheDog) December 27, 2016