Motorists are being urged to "play their part" to prevent further road carnage after a grim start to the Christmas holidays that has already left 10 dead.
The holiday road toll climbed to double figures yesterday after a motorcyclist died near Gore. It brought the annual total to 321 – exceeding last year's toll of 319 fatalities on our roads and the worst national tally in six years.
A road safety advocate has labelled the deaths a tragic start to the holiday period and urged road-goers to "play their part" to prevent further tragedy.
"If you see a loved one about to take a risk behind the wheel, speak up, you could be saving their life or the life of someone else," road safety charity Brake director Caroline Perry said.
National road policing manager Superintendent Steve Greally said: "I'm devastated that we've already seen 10 people die on our roads this holiday period.
This, on top of so many other avoidable deaths this year on our roads, is unacceptable.
"Our roads are very busy with people travelling over the Christmas and New Year period so I urge drivers to be mindful of other road users.
"We don't want to have to [tell] anyone else that their loved ones aren't coming home so let's all make good decisions and prevent more death and injury on our roads."
A small Canterbury community is in mourning after three teens were killed in a horror crash near Leeston early on Monday morning. A car driven at high speed by an unlicensed 14-year-old boy became airborne then smashed into a macrocarpa hedge, narrowly missing a concrete power pole.
Police have named the three 15-year-old victims as Cole Troy Hull, Samuel James Drost and Lily Frances Moore.
The driver remains in hospital with serious injuries while the other survivor, the only occupant wearing a seatbelt, was discharged with only minor injuries.
Family and friends of the victims visited the crash site on Southbridge Sedgemere Rd yesterday, leaving flowers, messages and tributes.
"Fly high Sam," was scribbled on a smashed car hubcap and a handwritten note saying "We love you Lily" hung from a tree, alongside a pair of blue trainers scrawled with the words: "Love U Sammy."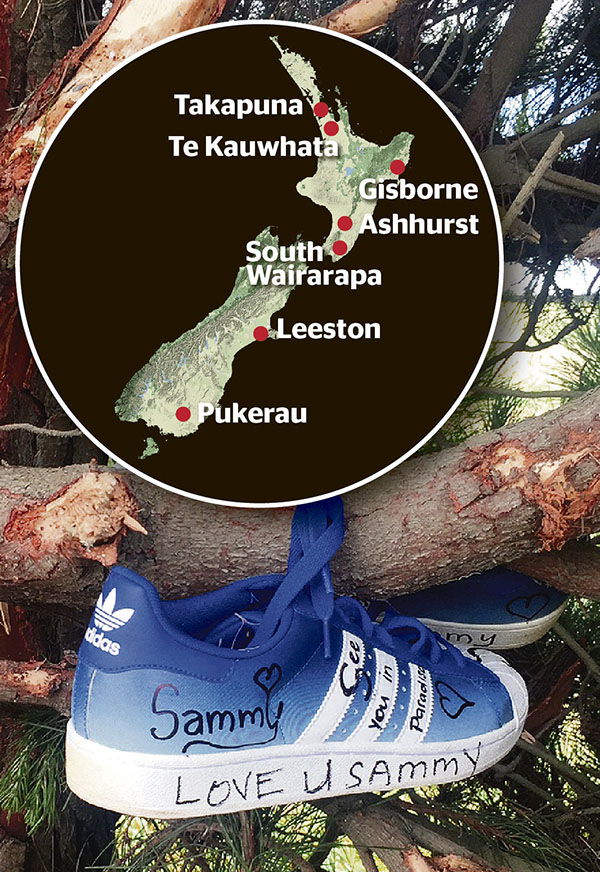 There were tears and hugs as people examined the site and talked through what had happened. Rangi Ruru Girls' School principal Dr Sandra Hastie said the news of student Lily's death had been met with "immense sadness".
"Our heartfelt condolences go to Lily's family and friends.
"Rangi Ruru is a strong, closely-knit and supportive community and [Lily's family] know we are here for them at this difficult time."
The principal of Ellesmere College, Gavin Kidd, said yesterday that the school, which Cole attended, was offering support to students and parents.
Perry said drivers had a responsibility to do everything possible to keep themselves and other road users safe.
"That means staying below speed limits and driving to the conditions, ensuring everyone in your vehicle is wearing a seat belt, taking regular breaks on long journeys, not driving if you've consumed alcohol or drugs, and keeping your full attention on the road.
"This is meant to be a time for enjoyment and getting together with family and friends, but there are a number of families who instead have had the devastating news that a loved one isn't coming home."
In the latest fatality a motorcyclist died in a crash at Pukerau near Gore just before 4pm yesterday on Waipahi Highway in a smash involving two cars.
The road was closed as Serious Crash Unit investigators mapped the accident scene.
The first fatality of the holiday period was Myung Wha Lim, 83, who died after being hit by a car in Takapuna, Auckland on Friday night.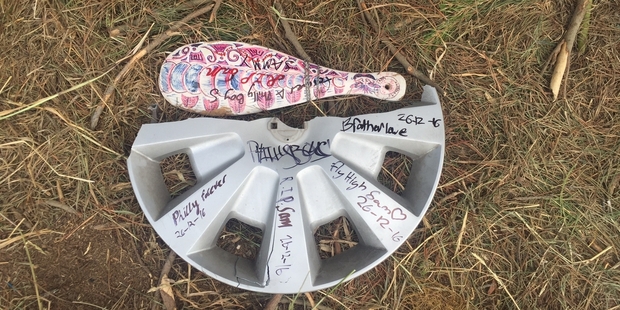 A double fatality on Christmas Eve claimed the lives of Sione Taumalolo, 11, and Talita Moimoi, 33, when the bus they were in crashed down a 100m bank in Gisborne.
Clifford Irving, 66, of Lower Hutt died after a collision between a motorcycle and a ute on State Highway 2 in South Wairarapa on Christmas Day.
A motorcyclist died at the scene of a crash in Ashhurst in the Manawatu on Boxing Day.
Meanwhile, a toddler was run over in a driveway in Te Kauwhata on Monday. The 2-year-old died on a public driveway, which meant the death is included in the official road toll.
The official holiday road period began at 4pm on December 23 and ends at 6am on January 4.
Last year 12 people died on the roads during the holiday period from 244 reported injury crashes.
Holiday-makers faced near gridlock around the country yesterday, with traffic dense at key choke points.
Traffic on State Highway 1 north of the capital was forced to a crawl as people headed off for New Year's celebrations.
Queues also formed between South Auckland and Hamilton, while those heading north out of the city faced significant delays after a car accident at Wellsford.