It's been a long night for Christchurch residents. Here's what you need to know first thing this morning:
A state of emergency has been declared in Christchurch and Selwyn because of massive wild fires on the Port Hills, which have destroyed at least eight homes.
Evacuations
Police and the Defence Force have spent the night evacuating residents.
This morning, police told residents near the Sign of the Takahe around Dyers Pass Rd to leave.
Earlier, residents on Longhurst Tce, off Dyers Pass Rd, were told to evacuate immediately.
Homes along Kennedys Bush, Cashmere and Hoon Hay Valley roads were being evacuated.
Homes from the Sign of the Takahe near Victoria Park were also being evacuated.
East Valley Rd and Worsley Rd have been evacuated.
There are reports of 800-1000 people evacuating, and up to 400 have been forced to evacuate by authorities.
Evacuation centres:
Evacuation centres include; Selwyn Events Centre in Lincoln, Halswell Libary, Nga Hau e Wha Marae on Pages Rd, and Te Hapua Halswell Centre.
Evacuation housing Facebook page has also been created for displaced residents looking for accommodation.
Areas affected by the fires: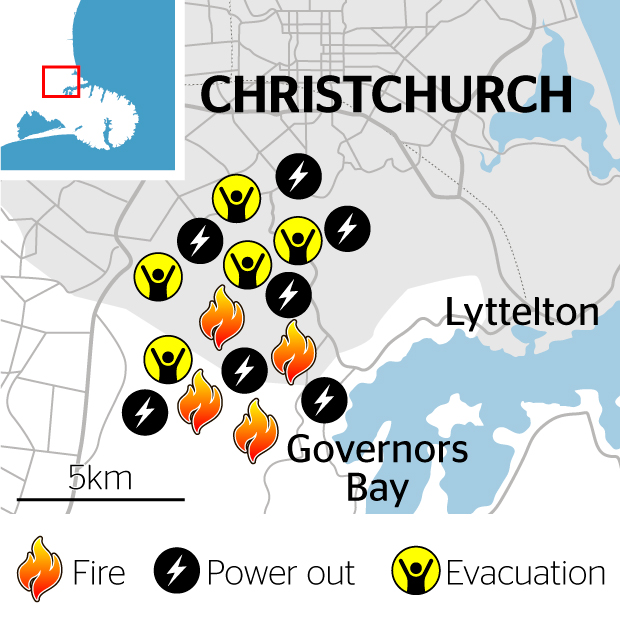 Road closures:
Cashmere Rd is closed west of Kaiwara St through to Kennedys Bush Rd.
Worsley Rd is closed.
Hoon Hay Valley Rd is closed.
Kennedys Bush Rd is closed from the roundabout with Rock Hill Drive. This includes the southbound cycle track.
Worsley Track from Worsley Rd is closed.
Dyers Pass Rd is closed between Hackthorne Rd to Governors Bay Rd. Use the Lyttelton Tunnel or Gebbies Pass as the alternative route.
Summit Rd is closed between Gebbies Pass and Rapaki Track.
Old Tai Tapu Rd is closed between Osterholts Rd and Early Valley Rd.
Early Valley Rd is closed.
Holmes Rd is closed.
Weather:
The weather outlook for Christchurch, from Metservice;
Today: Fine apart from morning and evening cloud. Fresh northeast winds. Temps 14C-21C.
Tomorrow: Cloudy, occasional rain from afternoon. Northeasterly. Temps 15C-20C.
Saturday: Occasional rain. Northeasterlies. Temps 14C-20C.
Power:
Christchurch lines company Orion says more than 120 homes are without power.
Forty two homes are without power in Cashmere, 29 are without power in Westmorland, and two are without power in the Halswell, Sumner and Tai Tapu area.
Nineteen were already without power because of an outage in Governors Bay and part of Marleys Hill.
Thirty one were already without power in Lansdowne and another part of Marleys Hill.
Another home has also been without power in Ilam.
Chorus has no reported outages.
Health:
People have been told to stay inside to avoid smoke inhalation.
Dr Alistair Humphrey, Canterbury Medical Officer of Health has advised that anyone suffering respiratory issues contact their GP.
From the council
The Christchurch City Council says it is important that members of the public keep away from the hills. People "rubber-necking" are disrupting the emergency response and making it harder for police and fire services to do their jobs.
The council's latest update says:
• Residents will be contacted directly by police who are now knocking on doors. If you feel unsafe, you are advised to self-evacuate.
• There are still very active fire fronts on the Port Hills, but not as many as there were before midnight.
• A large number of fire crews have been working hard to protect properties overnight, and the drop in fire activity can also be attributed to a fall in temperature and a rise in humidity.
• Helicopters will go up up at first light, and give a clearer picture of the situation once day breaks.
• Approximately 400 households have been evacuated around Victoria Park/Dyers Pass Rd, Worsleys Rd, Westmorland and Kennedys Bush.
• Six people from Pentworth Pl in West Moorland have been evacuated and are sleeping over at Te Hapua, which has been opened for evacuated residents, along with Nga Hau e Wha Marae.
• Most people who have been evacuated have found their own accommodation.
• As well as rural fire staff, 50 police and 36 New Zealand Defence Force personnel worked overnight on the Port Hills fire response, evacuating people, on joint patrols and reassuring people in the areas hit by the fires.
For up-to-date information, go to our blog or listen live to Newstalk ZB.