First pictures emerged of London terrorist as mum breaks silence after deadly attack
The first pictures of London terrorist Khalid Masood have emerged, including one of him smiling in a school sports team as a teenager.
London's Metropolitan police released the undated mugshot of the man behind the attacks that left five people, including Masood, dead.
The attacker was born Adrian Russell Elms in Kent to a 17-year-old single mother but later changed his surname to that of his stepdad, becoming Adrian Ajao.
He converted to Islam in 2009 and changed his name again to Khalid Masood but used several other aliases including Khalid Choudry, police said.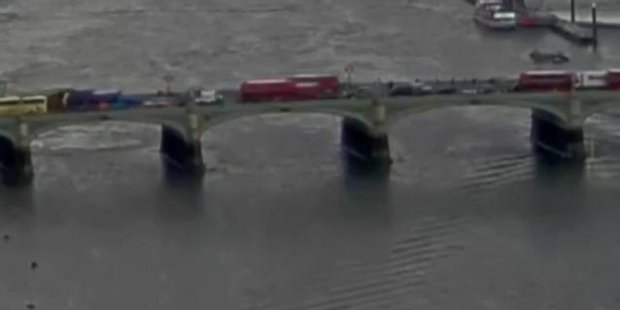 VAMPIRE' WITH 'SPLIT PERSONALITY'
The attacker grew up in the UK's south and went to Huntleys Secondary School for Boys in Tunbridge Wells where the pictures were taken.
He was described as a bright student before turning to a criminal life and converting to Islam around 2009 and changing his name to Khalid Masood.
At one point he ran a television repair business and taught English in Saudi Arabia where he described himself as "friendly and approachable".
He claimed to have an economics degree on his CV and said he was a "good listener" who exercised four or five times a week.
"I have demonstated an ability to explain ideas in a clear, confident and professional manner," he wrote.
Eleven arrests have been made in London and Birmingham over the attack with a 39-year-old woman released on bail.
Neighbours at his Birmingham address said he had been dubbed a "vampire" for walking the streets at night wearing black.
Polish woman Anna Goras, 32, told The Sun he had a "split personality" where: "His face would change in a moment and his eyes would go hard and look evil."
"It's hard to think that a man who gave me and my kids a lift home from school could have turned into a killer," she said.
MOTHER 'TOO UPSET' TO COMMENT
Khalid Masood's mother she is "too upset" to comment on the attack.
Janet Ajao, 69, was approached at her farmhouse in South West Wales by The Sun before speaking briefly with a police officer.
A police source said: "She is too upset and adamant she won't make any comment on anything at the moment."
The attacker's mother and her husband Phillip, who is Masood's stepdad, live in the village of Trelech in Welsh-speaking rural Carmarthenshire. Pictures on a local craft website Folksy shows she runs an online business selling handmade bags and cushions.
Two undercover cars were stationed outside the family home although there was no evidence of it being searched or the family having done anything wrong.
Masood's neighbour in Birmingham Iwona Romek described the man she had lived next to for five months as "normal family man who liked to take care of his garden."
She said he had a wife and young child and identified the assailant after he was pictured on a stretcher after the attack.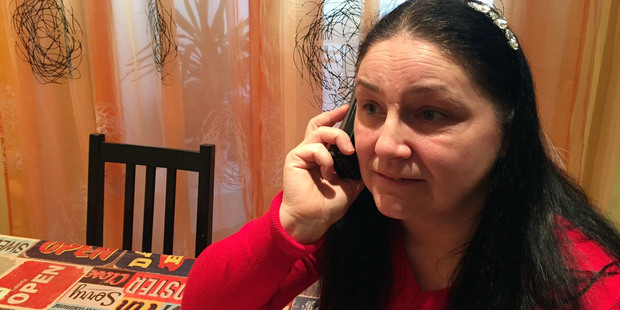 HISTORY OF A KILLER
Police said Masood had been jailed twice for violent crimes including stabbing a man in the face in 2003.
He has two half-brothers Alexander and Paul Ajao. Paul, 50, lives in Oxfordshire and runs a number of florists and fabric companies.
Deputy Commissioner Rowley said the force had made two "significant" arrests overnight leading to eleven people in custody and one woman who was released on bail.
He said five searches were ongoing and 16 had been completed, with "massive amounts" of computer data seized during the raids.
"We're keen to hear from anyone who knew Khalid Masood well. Anybody who understands who his associates were and places he's recently visited," he said.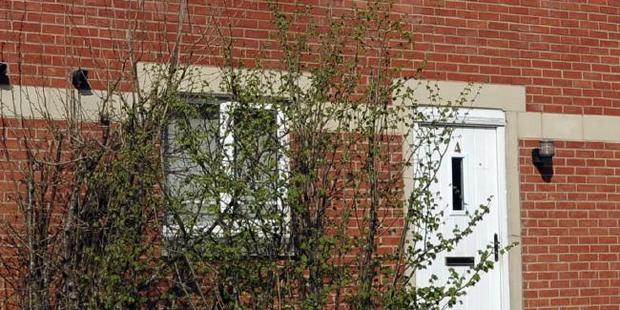 FIFTH VICTIM NAMED
A fifth person has died after injuries sustained in the attack. He has been named as Leslie Rhodes, a 75-year-old man from South London.
Two people remain in critical condition, one with life threatening injuries. Two police officers also remain in hospital including PC Kris Aves who is said to be facing "life changing injuries".
The father, 35, was walking across Westminster Bridge with two colleagues "when the car came from out of nowhere".
He underwent eight hours of surgery following the attack.
sister Nikki Tapner, 42, said: "I don't know that much about what's going on.
"All I have been told is he has been hurt but his life is not in danger. My parents are there with him."
Deputy Commissioner Rowley said at least 50 people were injured in the attack with 31 requiring hospitalisation.
US TOURIST SHARES FINAL PICTURE
US tourist Staci Martin has shared a picture she took with slain policeman Keith Palmer within an hour of his death.
The Florida woman said she asked the police guard for a picture outside Westminster.
"It's my first time in London and I see his hat and I'm like I have to take a picture of him with his hat," she told ABC News.
"I walked up to him and said 'do you mind if I take a picture?' He said 'no problem', he was really nice."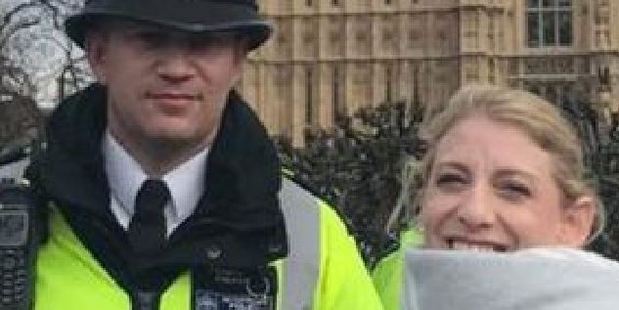 SLIVER OF TIME
It's also emerged that Khalid Masood managed to run through the gates of Parliament as they were opened for a car carrying Acting Police Commissioner Craig Mackey who was leaving a ceremony at Parliament House.
Commissioner Mackey revealed yesterday he was a witness to the event and had to give a statement like anyone else.
The bizarre coincidence will be subject to investigation as questions have been raised over whether security could have been any more stringent at the site.
UK Prime Minister Theresa May said a full review will be conducted. Police and emergency services have been praised for their response.
Two more arrests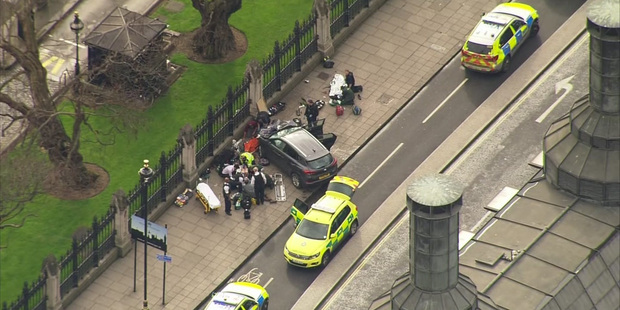 Two more "significant arrests" have been made in the aftermath of the Westminster attack, bringing the total number of people arrested to 11.
Ten people remain in custody, including a group of men aged in their 20s believed to be among those arrested during a series of raids in London, Sussex, Birmingham and Wales, The Guardian reported.
The Guardian said all of those detained were arrested on suspicion of preparation of terrorist acts. Their ages range from 21 to 58.
Scotland Yard's top anti-terror officer, Mark Rowley, says the suspects were held overnight in the West Midlands and north west as he revealed that the killer's birth name was Adrian Russell Ajao.
The Guardian reported one woman who was arrested in connection with the attack has been released on bail. Police have seized 2700 items and taken 3500 statements from people.
They've searched five properties and another 16 searches are ongoing, The Guardian reported.
Rowley appealed to the public for information about the killer, who was also known as Adrian Elms but was using the name Khalid Masood at the time of the attack.
The officer also revealed that the fourth member of the public injured in the attack, who died in hospital last night, was 75-year-old Leslie Rhodes from Streatham, south London.
Rhodes' neighbours paid tribute to the "lovely man" who was "fit as a fiddle" despite his age.
Philip Williams, 61, told The Guardian he'd known Rhodes, a retired window cleaner from south London who did not a have any children and wasn't married, for 24 years.
"He would do anything for anybody. And it's such a shock."
He said other neighbours told him Rhodes had been visiting a nearby hospital when he was hit by the rented 4WD driven by Masood.
He was seriously injured and died in hospital the day after the attack.
"I've been told he was hit in the midriff. He had many broken bones. Apparently he went into a coma straight away."
Meanwhile, medical staff who work in the emergency department at King's College hospital, only two miles from the scene of the rampage on Westminster Bridge, have spoken about what it was like to discover the horror unfolding so close by.
Dr Emer Sutherland​, head of the ED, told The Guardian that staff were alerted to the attack when friends and family members started texting them.
Minutes later they were preparing for first of many critically hurt people to come in.
"We are a major trauma centre so we are used to dealing every day with seriously injured patients, such as people who have been hit by a car or stabbed," she said.
It's always emotional when you are working on a day like that. Trauma cases are always emotional because you have to quickly treat someone who's critically injured and who might die."
Rowley said two people remain in hospital in a critical condition, one with a life-threatening injuries.
Two police officers injured in the attack are also in hospital with "significant injuries".