Cyclone Debbie has come within five kilometres an hour of being declared a Category Five storm as it bears down on the Queensland coast.
The Bureau of Meterology declared the tropical cyclone a "severe" Category Four system last night with wind gusts up to 250 kilometres an hour.
However it's just shy being declared the most severe Category Five, according to Sky News reports. The "very destructive core" is to cross the coast between Cape Upstart and Cape Hillsborough (north of Mackay) this morning with wind gusts potentially to 275km/h near the centre of the system.
Debbie is expected to remain strong until around 3pm on Tuesday afternoon (AEST)when it will reduce to a category 3 before moving to a tropical low tomorrow, latest forecasts show.
Last night was expected to bring a huge storm surge and flooding for low-lying areas and large waves in some places.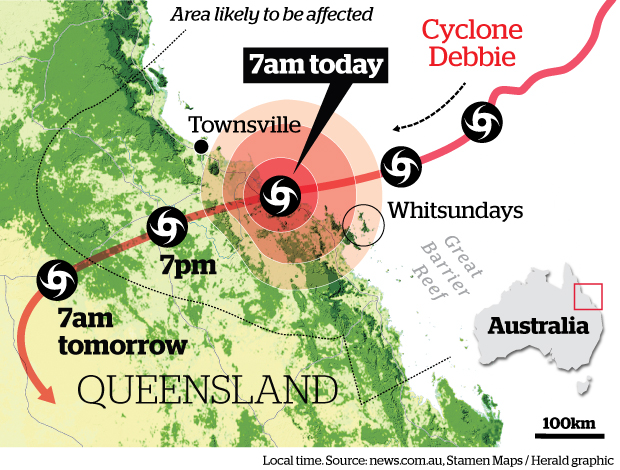 Mackay Regional Council published a series of maps on Facebook showing areas where people should "prepare and act" for possible inundation.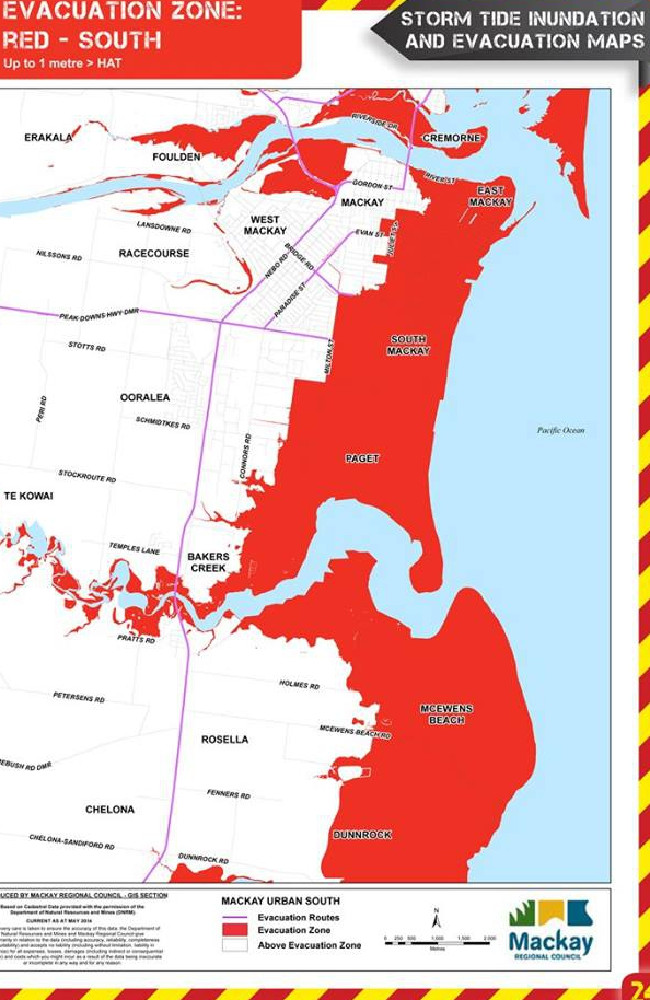 "Emergency alerts have been sent via SMS for residents in the green, red and orange zones in Mackay and associated beaches to "prepare and act" for possible inundation Monday night and Tuesday morning. If you are in these areas, be prepared to evacuate if needed," the council said.
An unprecedented mass evacuation is being carried out at the last minute in the Queensland town of Mackay as "monster" Cyclone Debbie gains intensity and threatens to cause widespread destruction in conjunction with a high tide.
QLD premier Annastacia Palaszczuk warned Queenslanders to brace themselves: "This is going to be a monster of a cyclone."
About 25,000 residents in low-lying areas of Mackay were ordered to evacuate their homes immediately amid fears of massive storm surges as a result of the cyclone.
"This is probably the largest evacuation we've ever had to do," Palaszczuk told Ten News.
The message was get out. Now.
"We are asking people that can move out of those low-lying areas that are depicted on the local maps on the council website to move now," QLD Police commissioner Ian Stewart said he said.
"Don't wait until tomorrow because you will not be able to move probably past midnight tonight … assist family members and the vulnerable to move."
Stewart said there were grave concerns for the coastal town because it is a "low-lying" area that is likely to be affected by a 0.8-2.5m storm surge, caused by a dangerous combination of a category 4 cyclone and high tide.
Stewart said police were asking people "in safer areas to open their houses and hearts to their friends".
"We don't want to see any tragedies as a result of this storm," he said.
QLD Premier Palaszczuk said it was "very clear the time to move is now".
"This is a severe weather system," she said.