• The Bay of Plenty township of Edgecumbe is evacuating.
• Severe weather warnings in place for parts of Canterbury and the Kaikoura coast
• Flights are operating at Wellington Airport this morning after being cancelled last night
• Rainfall has eased across most of the North Island
• MetService says high levels of rain fell in the past 36 hours, with parts of Auckland getting up to 150mm, Bay of Plenty up to 250mm, and Coromandel up to 200mm
• Whanganui River no longer expected to flood and the state of civil emergency across the region is expected to be lifted by midday
• Police continue to search for a man believed missing in the swollen Waikato River

The evacuation of the Eastern Bay of Plenty town of Edgecumbe is under way in what the mayor is calling a one in "500-year event".
The exact number of people being told to leave their homes for higher ground isn't clear; it could be as many as 2000.
Water is reported to be coming through the local stopbank.
Mayor Tony Bonne is calling it an extremely serious situation and is appealing for people to get out.
He says police are going door-to-door while buses are also at the local fire station to get people out.
Red Cross is helping with the evacuation and is saying that the roads out are congested.
Welfare centres are being set up in Kawerau and Whakatane.
People who need help evacuating are being told to call 111.
In Wellington, two dozen families living along Wellington's south coast were evacuated just before midnight as the Owhiro Stream in Happy Valley Rd burst it banks.
Meanwhile, flights in and out of the capital were to resume at 6am after the bad weather disrupted the systems.
Scores of roads around the lower North Island have been affected by flooding and slips.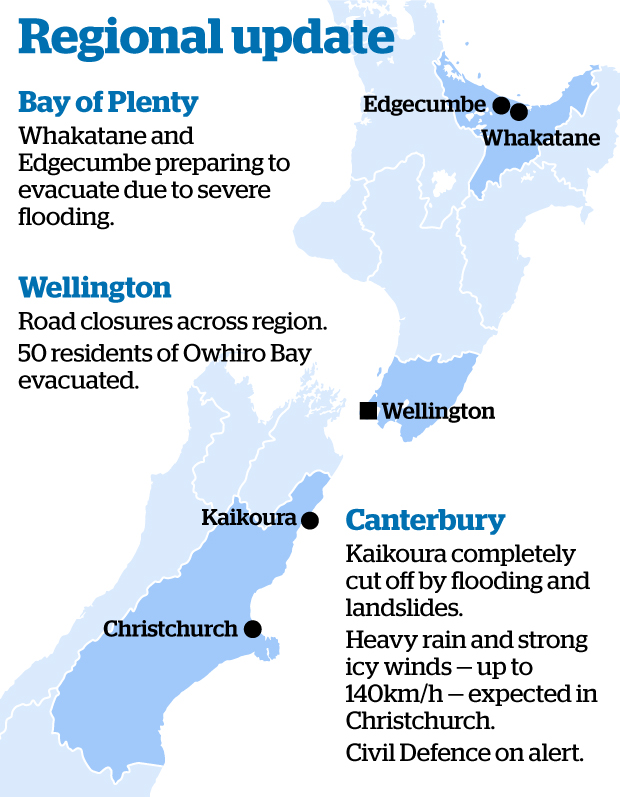 In Whanganui and Rangitikei, where a state of civil emergency is expected to be lifted by midday, 170 people remain evacuated. However, the Whanganui River is no longer expected to flood.
Further north, the country is swinging into clean-up mode and Waikato Civil Defence last night downgraded its activation to monitoring mode. However, police are still searching for a man believed missing in the swollen Waikato River.
MetService says the worst of the weather should now be over for the North Island, but not the South Island where wind and gale warnings remain in force.