Already flood-ravaged parts of the North Island may be in for another dose of heavy rain as the remnants of tropical Cyclone Cook arrive later this week.
Cook is now a category 3 storm and may reach category 4 before making landfall in New Caledonia tonight, WeatherWatch.co.nz said.
Sustained winds of 200km/h with much higher gusts are expected for the French island nation.
WeatherWatch forecasts by tomorrow evening Cook will be drifting south to south-east away from New Caledonia and slowly towards New Zealand.
MetService meteorologist Claire Flynn said the remnants of the cyclone are expected to pass by the north-east of New Zealand on Thursday and move away on Friday.
She said it is likely heavy rain will hit Bay of Plenty and Coromandel.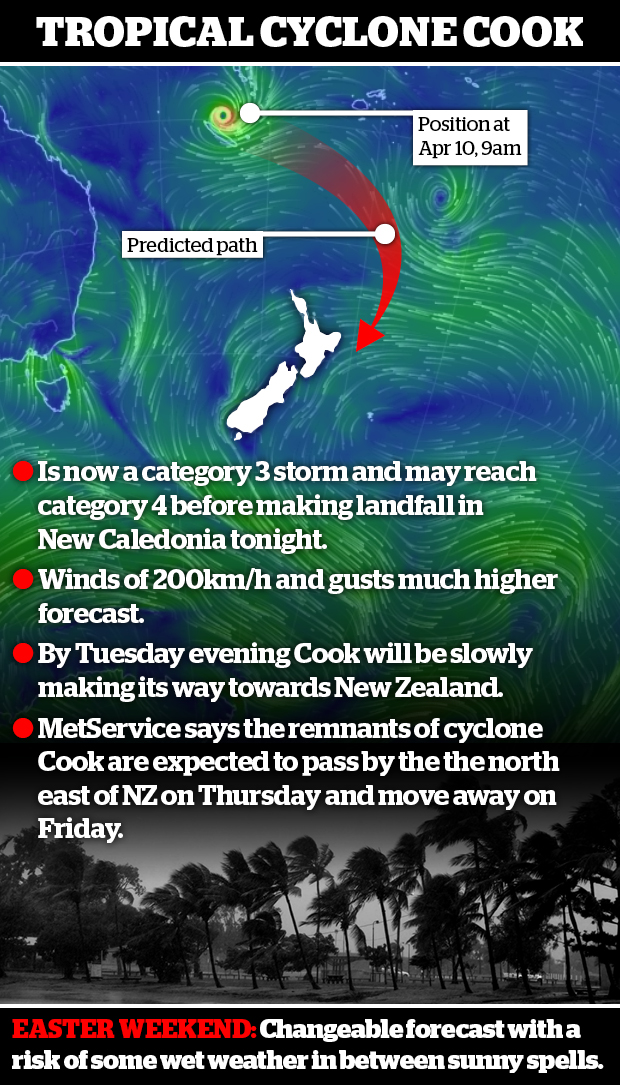 However, she cautioned about the uncertainty of predicting cyclone weather patterns, particularly more than a few days out.
WeatherWatch.co.nz said Cook is a "very intense but small-sized storm".
The weather forecaster also had concerns with a larger-sized low in the Tasman Sea joining forces with Cook to drag more flooding tropical rains to the North Island.
"This set-up could see rain returning to flooded parts of Bay of Plenty, for example, this Wednesday then intensifying as ex-cyclone Cook passes by over Thursday and Friday with torrential rain around eastern parts of the North Island; rain heavy enough to cause even further slips and flooding as possibly more than a months worth of rain yet again falls in just a couple of days," it said.
"As for the four day Easter weekend, it doesn't look stormy so much as it looks unsettled for many regions."
Flynn was not overly concerned with the low joining forces with Cook, expecting the low to remain just west of the South Island.
– Source