Cyclone Cook could be about to bring more heartache to flood-devastated parts of the country.
The category 3 cyclone was early this morning just south of New Caledonia, where it passed overnight and, according to overseas media, injured four and left thousands without power.
Cyclone tracks are changeable, but the latest models put eastern parts of the country in its path late this week – including a direct track over the East Cape.
Metservice meteorologist Brian Mercer said models were "starting to come together" for the cyclone.
"The track can change but we are currently expecting it will be just north of the Bay of Plenty midnight Thursday, then we expect it to move across the East Cape and then down the [North Island] East Coast and the East Coast of the South Island."
It was too early for numbers, but there was the potential for heavy rain and severe gales, Mercer said.
Severe gales are winds exceeding 76 kilometres an hour.
The latest models are not good news for those living in Eastern Bay of Plenty, where many residents of the flooded town of Edgecumbe remain unable to return home, and others living in rural areas are still cut off.
The Chatham islands is also at risk from the cyclone's impact, with severe north-easterly gales between late Thursday and Saturday, Mercer said.
In Wellington, gales can be expected between Friday and Saturday.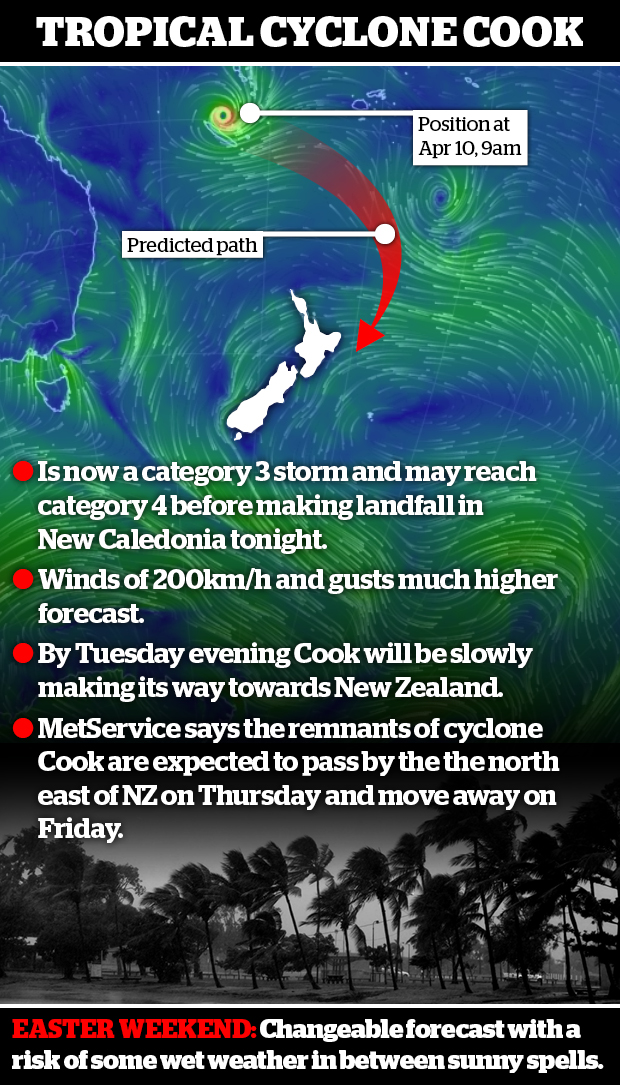 "[This cyclone] is definitely one to watch and we're encouraging people to keep an eye on our updates."
Weather watches were likely to begin being issued later this morning, and warnings tomorrow, he said.
Other parts of the country can also expect a wet lead-up to the Easter long weekend.
There will be rain in Auckland over the next few days, but daytime highs will remain in the low 20s.
A mixture of showers and rain is expected across much of the upper North Island and the South Island's West Coast today, while Whanganui, Wairarapa and Wellington will also see a few spots of rain developing.
Thickening cloud is forecast for the rest of the South Island.
A Tasman Sea low previously been threatening to roll across the country would remain off-shore this week – the power of Cyclone Cook was holding it away, Mercer said.