KEY POINTS
Cook is being regarded as the worst storm NZ has seen in generations
The storm is now expected to make landfall around 6pm
Coromandel and Bay of Plenty will be the first to feel its wrath
Winds of more than 165 kph and towering waves are expected
Thames, Coromandel and Bay of Plenty are under states of emergency
Schools and early childhood centres in eastern Bay of Plenty, Franklin district, Great Barrier Island, Waiheke Island , Thames and Coromandel are being urged to close today
People are on high alert in Bay of Plenty and may need to evacuate with little notice
The eastern coastline is expected to come in for a hammering with huge waves and fears of inundation and erosion
Helicopters and emergency welfare teams are on standby across the upper North Island
The storm is expected to bring widespread disruption to roads and air travel
People are being urged to delay their Easter holiday plans
Cyclone Cook's fury will be unleashed on much of the country today with conditions similar to those that sank the Wahine 49 years ago.
They are expected to be so hazardous, MetService is advising people to seriously consider altering Easter travel plans and said "don't take any chances".
This morning the cyclone was sitting 180 nautical miles north east of the country and expected to make landfall about 6pm
​
Yesterday's lashing of rain which flooded houses and caused landslips was just the beginning, with many places expected to see a month's worth of rain fall in the space of a day.
As well as rainfall and hurricane-force winds expecting to cause damage to homes and land, there are concerns of erosion, power outages, roofs and trees lifting, 5m swells and rising rivers.
Commuter chaos is also expected in the country's biggest city, with Auckland Transport warning of possible ferry and train cancellations and restrictions on double decker buses on the Harbour Bridge.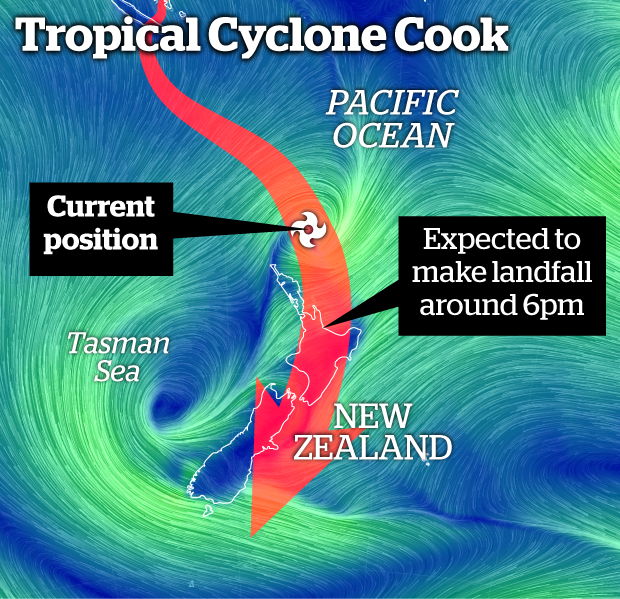 The low was meant to connect with the Bay of Plenty anywhere between 3pm to 9pm today, according to WeatherWatch.
Predictions last night were that it would fall somewhere between Tauranga and Whakatane.
The most severe weather was expect to extend from the centre by about 100 to 150km, forecaster Philip Duncan said.
"The centre is where the biggest storm surge is. The centre of the spinning low is so powerful it sort of sucks up the sea height underneath it, creating a tide that can be half a metre to a metre above normal, adding to coastal flooding concerns."
Rain was expected to be especially heavy in the Western Bay of Plenty and the Coromandel Peninsula, with up to 250mm expected to fall over two days and gusts of 150km/h or higher.
A state of emergency was yesterday declared by the Thames-Coromandel mayor. One is already in place for the Bay of Plenty.
"Damaging winds, possibly hurricane force for a time, may impact some areas around the centre of this low," Duncan said.
The storm is unwelcome news for many Edgecumbe residents who remain unable to return to their homes swamped in last week's floods during Cyclone Debbie. Others living in rural areas are still cut off.
People in Thames needed to heed the warnings and make sure trampolines were tied down, they had enough food, torches and batteries available, said MetService meteorologist Lisa Murray.
"They're going to be right in the path of Cyclone Cook.
"This is such a widespread event. People just need to hunker down.
"We're expecting downpours of 50mm in an hour, which is phenomenal – for instance, with Cyclone Debbie we were saying it was phenomenal with 40mm per hour of rain. But this one will have a lot of wind associated, which is not the case with Debbie."
"We are being vigilant with this system, because it may be not prolonged but it will have a massive impact. We are expecting to see damage."
She said she had "grave concerns" about the erosion potential.
Auckland, Northland, the Far North, the wider Bay of Plenty, Waikato, Gisborne and the Hawkes Bay are also all expected to feel the impact today.
Gusts of up to 140km/h or more could hit this afternoon, with 150-300mm of rain expected through to this evening.
Great Barrier Island, northeast of Auckland, could be hit with even higher gusts of up to 165-plus km/h. The island's 1000 residents are being warned to brace for extreme impact.
In Auckland, the Bay of Plenty and the Coromandel, 94 schools and 129 early childhood centres had been advised to close today.
Winds were expected pick up in the Wairarapa and Wellington overnight, and possibly in eastern Manawatu, Horowhenua and Kapiti.
Cyclone Cook will be fast moving and by midnight to dawn tomorrow, it may already be at Cook Strait.
It will be the first time in history a storm named Cook not only hit Cook Strait but crossed directly over it, WeatherWatch say.
By tomorrow morning, the storm will be centred near Christchurch if current modelling is correct.
Downpours may be intense in South Canterbury and coastal Otago for a time tomorrow with concern of flooding.
Murray said Cyclone Cook had changed from a tropical cyclone to a "mid-latitude low" – a "very different beast" from Cyclone Debbie.
Debbie was spread out, with noticeable bands of rain hitting the country interspersed with periods of calm. Cook, by contrast, will be short and sharp, but bring a "phenomenal" amount of rain, Murray said.
"It is a really tightly packed cyclone – the isobars are very tight – which means strong winds, heavy rain and storm surges."
Meteorologist Andy Best said he'd been working as a forecaster at MetService for about 20 years, and had never seen an event like this one.
He said the last weather event to have similar conditions was Cyclone Giselle, which hit New Zealand in 1968 and contributed to the Wahine disaster.
The sinking of the Lyttelton-Wellington ferry Wahine on 10 April 1968 was New Zealand's worst modern maritime disaster, claiming more than 52 lives.
Air New Zealand has also sent out an advisory to passengers to keep updated via its website about any flights that may be affected by the cyclone.
The weather by region
Northland / Waikato
• Heavy rain warnings in place.
• Between 150-300mm of rain expected across Auckland, Waikato and the Bay of Plenty.
Auckland
• Heavy downpours, flash flooding and 140kmh winds expected until midnight tonight.
• Between 150-300mm of rain expected through to this evening.
• Ferry and train services may have to be cancelled.
• Possible vehicle restrictions on the Harbour Bridge due to high winds.
• Auckland Council, Civil Defence and NZTA all urged care on roads.
• Delays and cancellations expected on some train services.
• Three Waiheke Island schools closed today.
Coromandel
• Worst of the weather will hit today. Civil defence emergency in force.
• 150 to 250mm rain until midnight tonight, with intense rates up to 35mm an hour.
• Winds of up to 150km/h or more possible from this afternoon. Peak waves of 5m or more on eastern coast.
• Extreme care urged at high tide this morning (8.36am) and again tonight at 9pm. High tide tomorrow at 9.16am and 9.41pm. Care should also be taken on the Firth of Thames coast.
• Slips and flooding possible and could close roads. Easter holidaymakers urged to stay away.
Bay of Plenty / Edgecumbe
• Up to 300mm expected in Bay of Plenty in next 48 hours.
• Regional state of emergency in place as water pumped from flooded Edgecumbe.
• Access to areas of Edgecumbe hit by last week's floods suspended due to the incoming weather.
• 57 schools in the region closed, as with kura and early learning centres.
• Edgecumbe residents will be alerted to evacuations with sirens from fire stations and emergency services vehicles.
Taupo
• 150 to 205 mm through to midnight tonight. Wind gusts up to 150km/h or more possible from this afternoon until early tomorrow.
• Lake Taupo could rise by half a metre.
Wellington
• The storm expected to reach the capital early tomorrow morning
• It is likely to deliver heavy rain and strong winds
Westland, Buller, Nelson
• Intense rain forecast for region
• Up to 200mm of rain expected in ranges around Nelson, with maximum rainfall rates of 30 to 40mm an hour.
• Slow moving low in from the Tasman Sea will bring rain to the West Coast before other regions in the South Island.
• A severe weather watch has been issued for the affected areas.
Otago
• Flooding fears for Dunedin
• Heaviest rainfall expected from midnight to 2am.