ANZAC Day will be commemorated at the National Army Museum Te Mata Toa with two services on Tuesday 25 April 2017. The dawn service will begin at 6am, while the civilian service is at 11am.
Both services will be supported by military personnel from the nearby Waiouru Military Training Camp. At the conclusion of the dawn service, the Museum and Home Fires Cafe will open to the public at the special time of 7am.
ANZAC Day opening hours: 7am – 4:30pm
Services within the building are provided free of charge, however, normal admission prices to the Museum still apply.
Events and activities:
– Heartlanders: New Zealanders of the Great War – free outdoor exhibition
– Going Underground: Tunnellers in WWI featuring photographs by Brett Killington and Tunnel Technology
– Poppy Air Balloon Display
– Military vehicles from the Museum's own collection on display
– Kidz HQ – an interactive educational space for children and families
– Animals at War Children's Activity Trail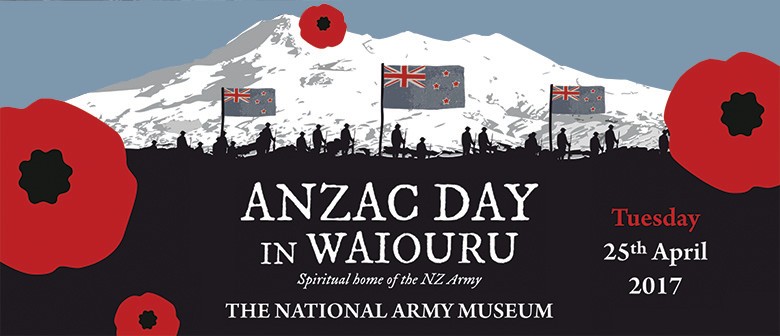 Fallen servicemen and women will be remembered in dawn and civic services around the Taupo District on Anzac Day. The main ceremony will be held at the cenotaph on Tongariro Domain in Taupo at dawn. Those involved in the dawn parade will depart the Taupo RSA on Horomatangi St at 5.50am. It will travel along Horomatangi, Ruapehu, Tamamutu and Tongariro streets before arriving at the cenotaph for the 6.15am service. This is a new route to accommodate for those with mobility issues as it avoids the speed bumps of Heuheu Street.
At 10.30am, a civic service and parade will be held. Mayor David Trewavas is scheduled to take part in the service and to make a short speech.
The following roads will be closed on Friday, 25 April 2014 from 5.30am to 8am and again from 9.30am to 12pm:  Tongariro Street between Spa Road and Lake Terrace and Horomatangi Street between Ruapehu and Titiraupenga Streets.
All ex-servicemen and women as well as other interested parties can take part in the parade. Those who want to join in can assemble outside the Taupo Bowling Club on Lake Terrace at 10.15am, ready to march to the cenotaph outside the Great Lake Centre.

A civic service will be held at 10.15am at the RSA Cemetery on Lake Road. That will be followed at 11am by a service at the cenotaph in the grounds of the Mangakino District Services and Citizens Club on Wairenga Road.
In the southern settlements, a dawn service will be held at Waihi Marae at 5.45am. It will be followed later by a parade at the Turangi Services Cemetery on Aonini Road, Turangi at 10am. At 10.50am there will be a march from Turangi town centre to Tokaanu-Turangi and Districts Memorial RSA clubrooms, Katopu Place, Turangi, where a civic service will be held.
ANZAC Day marks New Zealand's first major engagement of World War One at Gallipoli, Turkey. While it was a terrible defeat, it has gone on to become a legend of sacrifice.
On Tuesday 25 April 2017 the team from Rotorua Museum will be based at Te Rūnanga Tearooms (Government Gardens) from 9am until 3pm with a range of activities to commemorate ANZAC Day.
Visitors can come to reflect and remember all the men and women who have served their country, showing courage and loyalty.
Take time to remember those whose lives have been lost by writing a message on a poppy. These poppies can be added to our ANZAC Day remembrance displays.
Children will have the opportunity to create their own poppy wreath to honour fallen soldiers in our free craft activity.
For further information please contact Rotorua Museum:
Phone – 07 351 8456 or Email – Kathy.nicholls@rotorualc.nz

The Palmerston North Dawn Service commences a 6am at the cenotaph in The Square.
This service follows the military tradition for services and is a service of significance for returned veterans and service people.
– 5:30: Dawn Service Parade to form on Church Street between Grand Hotel and All Saints Church. Any RSA veterans in wheelchairs assemble outside the former Post Office Cnr Main St and The Square, opposite the iSite.
– 6:00: Dawn Service commences
– 6:30: Dawn Service returns to Cosmopolitan Club (Linton St)
– 6:30: Breakfast service opens at Cosmopolitan Club
– 8:00: Breakfast service closes
Registrations are required for laying of wreaths – please go to the website ww1.pncc.govt.nz/anzac or call PNCC on 356 8199 by 5pm 19 April to register. Please also register any group or organisation that wishes to march in the parade.
Note: There is also a Civic Service at 9:15am at the cenotaph.

The parade will leave the RSA on Bowen Street at 6:15am followed by the Dawn Service at the cenotaph in Manchester Square at 6:30am.