The six couples have now spent a week together and reunited at a cocktail party to catch up with their fellow contestants for the first time since before their weddings. No couple knew how the others had gotten on with their marriages, and things swiftly got tense.
Claire and Dominic arrived to find Angel and Brett looking loved-up, and positively stoked that they were looking loved-up. Then Lacey turned up alone and almost immediately the tension was there. The girls had a classic bathroom chat when Lacey shared the news she had found out about Luke: He was just on the show for the fame (who isn't?).
Everyone else arrived; Luke made things awkward straight off the bat by giving Lacey a handshake, but then again, what else do you do in your already broken marriage?
Ben and the girls had a huge goss about their husbands, which was almost uncomfortably mean.
"I'm just not into him, he's not my type," said Ben.
"I feel that way about my one as well," said Vicky. "Mine always tries to kiss me."
"Same as me, I'm like, nah," replied Ben.
Granted, it's the first chance these people have had to compare their common experiences – but after a week of Aaron being very tolerating to Ben's ice cool reaction to him, it was a bit frustrating to watch to say the least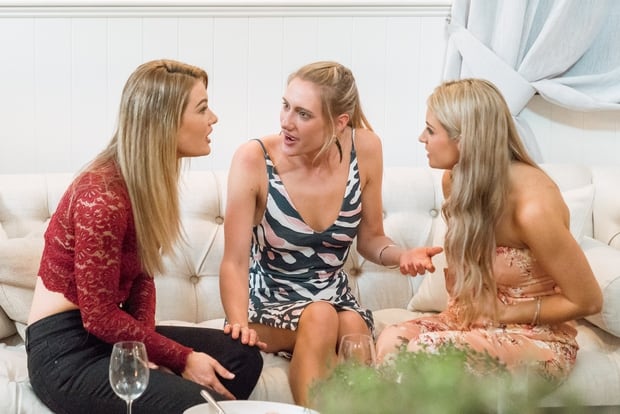 The cocktail party then swiftly became all about Lacey and Luke. After Dominic gave pep talks to both of them, Luke decided it was time he tried to engage with Lacey. It was painful to watch. For a start, Luke was extremely over the top, responding with yells  when Lacey accused him of being fame-hungry. But Lacey also refused to hear Luke's side of the story.
"You lied to me and to all of my friends and family. Your friends told all of my friends why you're on this show, and I know you think it's a joke, but I don't think it's a joke," Lacey said.
"The fact that all of your friends and family, including your dad, told my dad that the only reason you were on this show was so that you could become a famous comedian – it's not a joke to me."
Multiple times, she told him: "I'm not pissed off, I'm disappointed."
Luke became more and more exasperated as Lacey became more and more fired up, and the conversation swiftly fell apart. It looks like the troubles are far from over for these newlyweds.
Next week, the couples undergo counselling. Can't wait to see how these guys play out.