Kiwis flocked to social media to discuss the staple Kiwi meal, unearthing some hidden gems and locally famous chippies from around the country.
From Dunedin and Christchurch and across to the East Coast and Auckland, the Herald took a look at your favourite fish and chip shops.
Devon Sea Foods, Rotorua:
Rated 4.9/5 on Facebook, Devon Seafoods has fans from around the globe including Canada, England and Australia. Their fish is fresh, light and crispy and is the go-to chippie in Rotorua.
Bobby's Fresh Fish Market, Tauranga:
Known as the most popular fish and chip shop in Tauranga, you often have a lengthy wait but locals and tourists will tell you it's worth it every time.
Captain Ben's, Christchurch:
This place is famous in the South, with owners Mei Yee Lu and Thanh Bang Lu helping students cure their hangovers for years!
A few years ago they were known to give out free Captain Ben's caps to people on drunk adventures but demand got out of control.
Kaiaua Fisheries, Whakatiwai:
"Worth the drive" and "you have to eat here" tells you all you need to know about the tiny fish and chip shop that is located east of the Hunua Ranges and on the waterfront of the Firth of Thames.
They guarantee 100 grams or more of fish fillet in every fish order and it comes wrapped in the old school newspaper print. Choice!
The Flying Squid, Dunedin:
Rated 4.8/5 on Facebook, The Flying Squid based in North Dunedin is considered by many to be the most amazing fish and chip shop in Dunedin.
Customers have called their blue cod the best in the South Island and they cater for those who are gluten intolerant.
Fish Smith, Herne Bay, Auckland: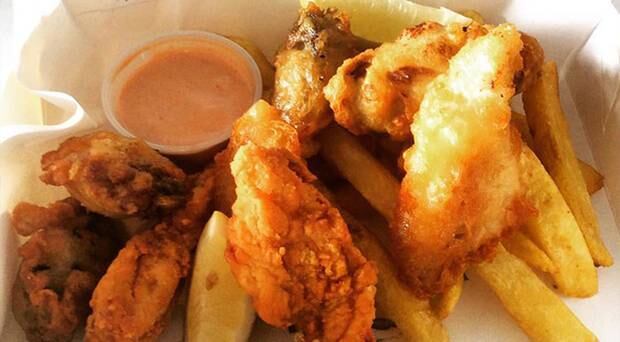 A customer in store told the Herald "I'd go out of my way just to eat at Fish Smith".
One tourist from England believe it was "easily amongst the best fish n chips" he'd ever had. "I'm a well travelled Brit with a bit of a thing for a good chippie."
Fish Smith was ranked in Metro's top 5 best fish and chips in Auckland for 2018.
And lastly:
Greenwoods Fresh Catch, Epsom, Auckland:
It'd be hard to find a more passionate fish and chips chef in Auckland.
Owners Thomas Ng and wife Lilian Sng hand pick their fresh fish at the markets and offer the option of battered or crumbled fish.
It'll be a bit of a trek to get to any of the fish and chip shops, but good fish and chips is always worth it right?
Source: NZ Herald
Image: Kaiaua fisheries Facebook