Double Paralympic gold medallist Liam Malone says running helped him deal with his mother's death from bowel cancer in 2012.
The three-time Rio medal winner said it was his silver, won on his mum's birthday, that was the most special to him.
"That medal is far more important than the two golds to me."
In an interview at NZME central this afternoon, the 22-year-old Wellington-based athlete joked he turned to running after his original strategy for dealing with his grief – smoking cannabis and drinking heavily – failed to work.
"I ended up going over to Australia, tried to get a job over there, ended up going out every weekend … that's not the environment to solve any kind of mourning," Malone told NZME's Laura McGoldrick.
After returning to New Zealand, Malone decided to focus his energy on Paralympic running, starting an intense three-year journey to get to the Paralympics.
"I just had to have belief in myself that I could catch up to everyone."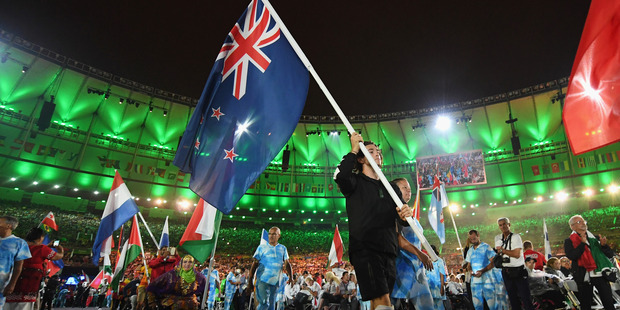 Malone has come a long way since those first days of training, where he said he once vomited after sprinting 50m.
His mum always believed he'd end up in Rio he said.
"She really, really wanted me to go to the Paralympics.
"Even on her death bed she'd say you're going to end up at the Paralympics… Mum's always right."
Malone returned today to a hero's welcome at Auckland airport after winning gold with Paralympic record-breaking times in the men's 400 metre T43 (46:20s) and 200 metre T32 (21:06s) events and also claimed silver in the 100 metre (11:02s).
He said the memory of his mum's long six-year battle with cancer was often what got him through when training was wearing him down.
"I think back to when she was going through chemotherapy … she'd still get up at 6am to run our farm, make my lunch for school and all these things to look after me.
"You just remind yourself, 'ok it's time to go, this is nothing, it's just running I'm not trying to battle any life-threatening disease'."
Now he was back in New Zealand, Malone hoped to cash in on his wins, saying he had a huge debt to his dad he wanted to be able to pay off.
"He has been my biggest sponsor since day one. He's gone above and beyond.
"I'm certainly hoping to capitalise off this, it's been three years of not making any money," he said, laughing.
"If I can capture a percentage of the value I create, I've got to pay dad back."
Next up for the young athlete is the New Zealand Nationals, where he believes he can compete against the fastest able bodied runners in the country.
"Next for me, in terms of competition, will be nationals (and) break the New Zealand able bodied record which is 46.1."
Malone says a lack of competition in New Zealand means he already has to train and compete against able bodied runners.