Sonny Bill Williams has unveiled his new-look Blues jersey – seven days on from unleashing 'collar-gate' over his decision to blank out sponsor's BNZ.
The code-swapping sensation ran onto Eden Park with a Blues jersey featuring neither BNZ or fellow key sponsor's Investec's branding, setting him apart from his team-mates for the Super Rugby clash against the Hurricanes.
Williams had objected to wearing a BNZ and Investec logo on his collar as his Muslim religious beliefs don't allow him to promote banks, alcohol brands and gambling sponsors.
Instead, Williams' jersey tonight the symbol of children's charity Plunket on its collar.
Plunket is supported by BNZ, which suggested the community organisation fill the space on the collar of Williams' playing jersey.
"Collar-gate" ignited widespread debate in the media and on social media over the past week, with the general consensus being that Williams should be allowed to adhere to the tenets of his religion.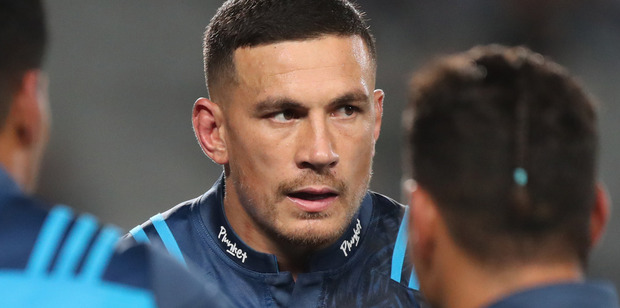 But rugby officials did question how Williams handled the matter, saying communication should have been better in the lead-up to last weekend's clash against the Highlanders when he used medical tape to cover up the BNZ logos.
Williams' manager Khoder Nasser told the Herald on Sunday the player was "all for" supporting Plunket and the children and families the charity works with.
The 31-year-old has two daughters, Imaan and Aisha, with his wife Alana.
BNZ chief executive Anthony Healy said on Thursday, "We are delighted that Sonny Bill has agreed to give the space, previously allocated to BNZ, to another of our core sponsorships, Plunket, who provide a vital support service for children and new parents".
Plunket chief executive Amanda Malu described Williams' decision a "real honour".
"We're thrilled such a high-profile Kiwi dad and role model is getting behind Plunket," she said.
"A lot of families will be watching this season and we're proud to be there supporting Sonny Bill as a dedicated father and role model for Kiwi kids.
"Sonny Bill is helping Plunket remind parents that our services are here to support mums as well as dads."
Malu said gestures like this made all the difference for Plunket, which relies on community support to continue its work.
Williams addressed his impromptu modifications to the Blues jersey mid-week, stating that the exemption he had now gained from wearing gear branded with BNZ's logo – and that of Super Rugby sponsor Investec – was important to his religious beliefs.
"I want to be clear that this is nothing personal against the BNZ or Investec," he said. "My objection to wearing clothing that markets banks, alcohol and gambling companies is central to my religious beliefs and it is important to me to have been granted this exemption.
"As I learn more and develop a deeper understanding of my faith, I am no longer comfortable doing things I used to do. So while a logo on a jersey might seem like a small thing to some people, it is important to me that I do the right thing with regards to my faith and hope that people respect that.
"I know I'm not perfect. Every day I work hard to become a better person. I want to thank the Blues and New Zealand Rugby for working with me through this matter over the last couple of days and respecting my religion and accommodating my request."
Williams' decision has had the full support of his team.
Williams will make his first start of the season at second-five in the only change from the side that lost in Dunedin. Rieko Ioane will start alongside the code-swapping star at centre, which sends All Black George Moala back to the bench.